Woodhaven Woman Adopts Unique Dog
By: Bethany Newton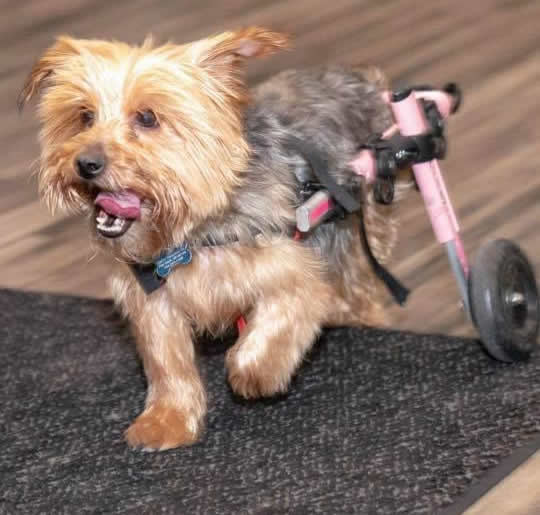 Woodhaven resident Rebecca Rose is an exceptional example of how to take a difficult (childhood) situation and rewrite your destiny.
Rose grew up in the Farmington area.  Her mother died when Rebecca was at the tender age of three, rendering her without a family home life.  She bounced in and out of foster homes before living with her grandpa. "Not the best life," Rose reflects.
She then had kids relatively young, five children, one boy and four girls. One of her daughters passed away though, along with her first husband and granddaughter, all from a debilitating disease called Huntington's Disease. This disease can cause different symptoms, but ultimately it causes the death of cells in the brain.
Through all the years, this woman, with the emotional strength of Hercules, was her daughter and granddaughter's caretaker. She is also currently the caretaker for her youngest daughter who has cerebral palsy.
The twist in this story is that Ms. Rose has opted to take on yet another strong role to help another in need.
While she isn't a stranger to taking care of others, she said she never considered adopting a dog, let alone a dog with special needs.
"I would never even let the kids bring their dogs in the house because I didn't want any dogs," Rose said. "I've never been a dog person."
Rose said her ex-sister-in-law first got her a dog as a housewarming gift. This dog had gone through a hardship though, as its mother died when it was only five days old.
Then another family member didn't want their dog anymore, so Rose opened up her home once again. For a person who didn't want a dog now had two, and what she didn't know was that two would quickly become three — once she met Bear.
One day she was scrolling online — she admits now she doesn't quite remember what site she was even on — when she fell in love with a special dog.
This dog had a cute face, but it also had something unique: it used wheels in order to walk.
"I messaged [the shelter] and said we're not afraid of wheels," Rose said.  After all, her youngest daughter is wheelchair bound so what's another set of wheels in the house?
Some might have been hesitant to adopt a dog that would require a great deal of work, but Rose has been taking care of other people her entire life.
"It would be hard if I wasn't used to taking care of Shannon," Rose said, mentioning her daughter with cerebral palsy. "I also worked at a nursing home for 15 years."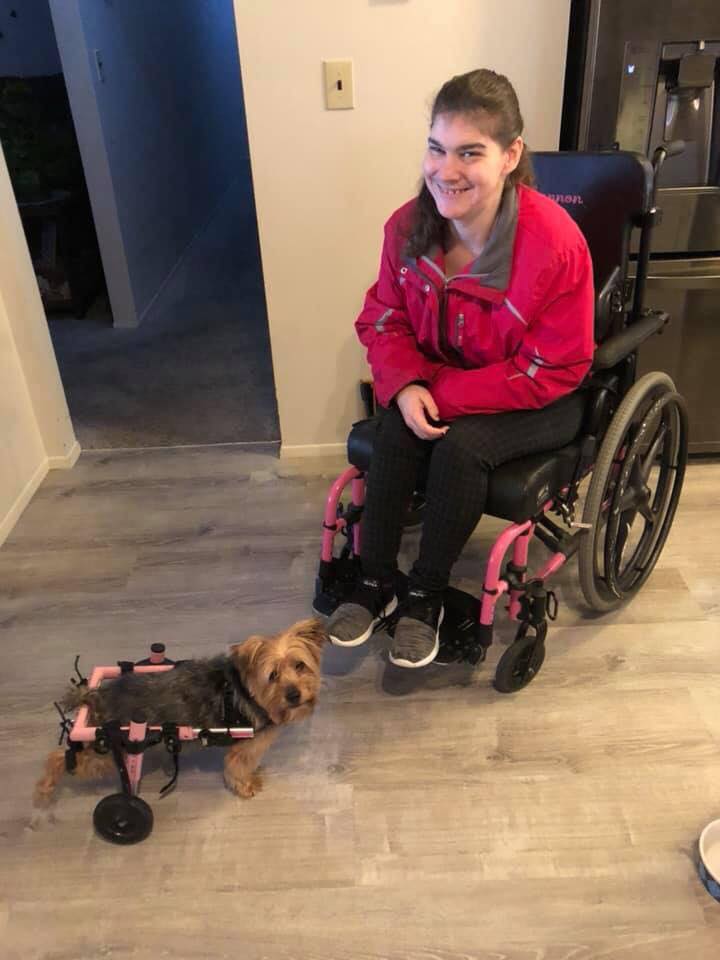 Bear, or "Sugar Bear" as Rose affectionately calls him, basically stole the whole family's heart, and after about an hour at the shelter, he was going home with them.  By night number four, he was sleeping in bed right between Rose and her husband.
Bear might have wheels, but Rose says that shouldn't discourage people from adopting dogs with disabilities or from getting dogs from shelters instead of buying the "perfect" dog.
"I had my arm on the back of [Bear], and I was looking at him and thinking can you imagine being in a family for five years then ripped out of your home and taken somewhere that you don't know nothing about," Rose said. "I was saying this to my husband and he goes well you should know."
Rose thinks maybe that's why she has such a soft spot for Bear. Both had to go into a type of foster home and know what it's like to get your family taken from you.
"I encourage everybody, just because a dog might be a little older, don't count them out," Rose said. "They have a lot of love to give too."
Discover Downriver has a special section on the website devoted to animal shelters in the area.  CLICK HERE to see if your new "furrever friend" is available for a forever home with you.
Editor's note:  Ms. Rose has another admirable talent making incredible custom cakes.  Her creativity is boundless and impressive.