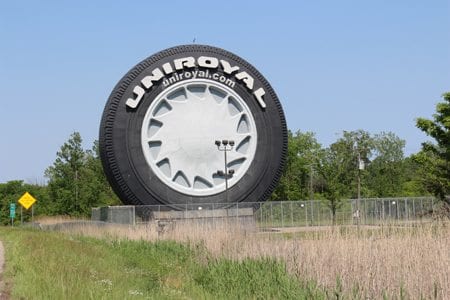 Historical Downriver Locations and Landmarks
ALL-METAL PRODUCTS COMPANY
All Metal Products Company, popularly known as Wyandotte Toys, was founded in 1920.  They produced inexpensive pressed metal toys under the Wyandottebrand name.  Specializing initially in pop guns, water pistols, and air rifles, All-Metal was the largest manufacturer of toy guns in the US for several decades in the 20th century.
The company's initial slogan was "Every Boy Wants A Pop Gun," backed by their #1 national ranking as top producer of toy guns.  Its more well-known moniker was "Wyandotte Toys are Good and Safe."
All-Metal diversified its offerings and was producing lithographed novelty toys by 1936.
With the banning of metal for general production in effect during World War II, All-Metal changed to producing toys made of wood and die-cut cardboard; popular during that time was their "Build Your Own" playsets.  Continuing their move away from their initial metal production, Wyandotte Toys began producing die cast and plastic toys by 1948.
Located at the corner of 12th and Sycamore for many years, the company moved their headquarters to Ohio in the early 1950s to help cut company overhead (production in Ohio was assumed to be cheaper); but other problems caused the company to shutter in 1956 (the company ceased in 1957) and its assets acquired by Louis Marx and Company.
---
THE UNIROYAL TIRE (ALLEN PARK)
Virtually nothing symbolizes Detroit's background as the Motor Capital of the world better than this gift from the World's Fair of 1964-65, which was held for two six-month periods in Flushing Meadows, New York, near the former Shea Stadium (the fair's theme:  "Peace Thru Understanding").
As can be seen, the 80 x 83 x 86, eight-story, twelve short-ton structure did start its life at the event as a ferris wheel with "US Royal Tires" originally emblazoned on it (although on the official Uniroyal website the letters are airbrushed to say "Uniroyal").  It ended up carrying over two million people during its stay in New York, including former First Lady Jacqueline Kennedy and her children, Caroline and John Jr..  The structure was designed by the same firm who previously designed the Empire State Building.
Preparing for its move from New York to Allen Park (where Uniroyal once had a corporate office; that space is now part of Baker College), the giant Ferris wheel was dismantled into 188 sections and shipped to Allen Park, where it took four months to reassemble and put in place.  The website Roadside America suggested a one-time rumor that the tire once broke off its moorings and rolled across I-94!  That of course has not occurred.
It has undergone two modifications since then; one of which stuck a giant "nail" on its top as seen below. in the mid 1990s.  The most recent update was completed in 2003-2004 at a cost of $1 million, funded by Michelin Tires (which bought the Uniroyal name in 1990).
Its proper name is the Uniroyal Giant Tire.  And no… there are no traces of the gondolas.
---
ALLEN PARK VETERAN'S ADMINISTRATION HOSPITAL
This historic structure was built in 1939 on land deeded by Henry and Clara Ford.  Comprising 38 acres at the corner of Southfield Road and Outer Drive, the original building shown here was later complemented by additions made during World War II, and again during the 1960s.
It was entered into the National Register of Historic Places in 1981, and as recently as 1988, was the subject of a massive restoration and renovation project headed by Congressman John Dingell.  However, a replacement facility was constructed within the Detroit Medical Center, opening in 1996 and mothballing the Allen Park complex, in spite of Mr. Dingell imploring that the area needed "a dual campus."  After much consideration, the structure was torn down in stages during 2004.
---
THE SECURITY BANK BUILDING, SOUTHGATE
The Southgate Tower, known to many as the Security Bank Building, is located in Southgate where Fort Street, Pennsylvania and Trenton Roads converge, and has been a landmark in this spot since 1973.  It sits on what once was the grounds of the old Wonderland Amusement Park.  The tallest building between Detroit and Toledo, it was locally well-known for its annual Christmas tree formed by green and gold lights in its windows.  In 2016, it was announced the tower was completely vacated, and currently awaits an uncertain future.
---
WHITE STAR REFINING / SOCONY-VACUMN / MOBIL OIL REFINERY
White Star Refining began along Allen and West Roads in the early 1920s, and became one of three refineries (and one of four tank farms) to have operated Downriver; the other facilities being Marathon's complex in Detroit/Melvindale, and Petroleum Specialties Incorporated (PSI) near Flat Rock.  Major operations began phasing out in this location in the early 1980s after many name changes to the facility.  A decade later, the area best known as the Mobil Refinery would be cleared and readying for the multitude of shops now located along that stretch.
Today, the Marathon location in Detroit/Melvindale is the only active refinery in the entire state of Michigan.
---
THE WJR RADIO TOWER AND TRANSMITTER BUILDING
Downriver (literally) provides the Great Voice of the Great Lakes
The original WCX-AM when broadcasting debuted in 1922, WJR would move its offices to the iconic Fisher Building in Detroit around 1928.  Transmitting power increase from its initial 10,000 watts up to an eventual level of 50,000 watts.  To help provide for the increased modulation, a new facility was sought out and found at the corner of Sibley and Grange in Riverview.  Designed by Cyril Edward Schley and constructed in 1934 using Zig-Zag Art Deco, it is somehow not yet listed in the Michigan Register of Historic Places, yet the two photos below prove it has stood the test of time, and is probably without a doubt Downriver's best example of Art Deco on any of its commercial buildings today.
| | |
| --- | --- |
| SIDEBARQUESTION: | What about that large set of transmitter towers located in Lincoln Park next to Meijer? |
Although four of the transmitters (closest to Dix-Toledo) were removed in the 1980s, the remaining three rows of towers are still utilized as part of WLQV-AM 1500, a Detroit Christian Talk station.  Yes, all the towers are for one station only, as their antenna system is of a highly directional type.
---
THE TELEGRAPH / INTERSTATE 94 BRIDGE AND INTERCHANGE
Public sentiment on this structure since its opening in 2004 has been vocally mixed.  Some have called it a massive improvement over the double-viaduct setup of the 1960s which preceded it (the interchange had a dangerous left-hand merge/left-hand exit setup), while some have referred to it as "The Big Blue Blunder," saying state money should have been spent on freeway or road resurfacing instead.  Geared to give travelers from Detroit Metro Airport an impressive sight to see in time for the 2005 Super Bowl in downtown Detroit, this particular bridge/interchange setup is the only one of its type in the state of Michigan, and has been proven to cause fewer accidents in the short time it has been in service.
---
THE WATER TOWERS
Water towers appear to be revered among many Downriver residents thanks to various Facebook posts throught the years. Of the many which our area had, two stand out in particular: the ones which stood guard over Sears Lincoln Park Shopping Center, and Southgate Shopping Center.
The Sears water tower is still there, having undergone only one modification in nearly fifty years of existence. It was originally an all-silver tower with SEARS in big, black, capital letters. Around the time of the Sears store's exterior modifications (late 1990s), the tower received its present look. This water tower would bear witness to this particular Sears store becoming the most successful in the world during a stretch in the 1960s.
The Southgate water tower had its own interesting history. Situated at the foot of Federal Department store, its role was to signify what would be Downriver's largest shopping center from 1958 to 1970. The large "S" on the crown and "Federal" running down the tower stem were fixtures into the early 1970s.  For a brief time after, the "S" was replaced by a decorative "down" arrow (or so it looked) which pointed toward the Federal banner. Finally by 1978, Service Merchandise had replaced Federal in the center, and the tower was repainted with the company's logo.
The tower was drained of water in the 1980s when a central fire suppression sustem was installed at the center, and a rapid deterioration of the structure began, lasting into the mid-1990s. A News-Herald article then told the story of a Southgate Schools student who wrote a letter to the city suggesting the tower be rehabilitated.  Surprisingly – since the tower was empty and of no practical use – it would be. Repainted with a "Welcome to Southgate" message with Service Merchandise's new logo underneath, it garnered local news and kudos for the student: an excellent example of a single person's preservation movement.  It would last until falling the wreckers' ball in 2004.
Other city-owned water towers no longer there include those in Lincoln Park (dismantled early 1980s), Trenton (torn down 1965), and Wyandotte's original tower (replaced in 1990-91).  The other water tower currently active is located in Rockwood, easily spotted from I-75.
---
THE WONDER WELL
Located on the southern part of Grosse Ile off Southpointe Drive, the Wonder Well produced a natural flow of two million gallons of water daily at its peak.
The well was drilled in 1903 in an attempt to locate oil, but drillers mistakingly drilled into this spring rich with mineral water.  The water was taken from here and bottled for medicinal purposes throughout Michigan and Ohio up until 1957.
The Wonder Well eventually ran dry in 1994.  The adjoining property, which housed a cinder-block store selling fireworks in-season, was vacated in the early 2000s, and demolition began on-site in 2012.