Downriver Veteran Making a Difference – Hometown Hero
Semper Fidelis
The Marine Corps motto, Semper Fidelis (Always Faithful) means a lot to Marines. The concern for the person to the left and right of you extends well beyond the length of military service. For Brownstown Marine veteran Chad Rossow, this is a guiding principle of his life.
Chad entered the Marine Corps as a machine gunner in 2009 at the age of 17 after having been an honor student and ROTC cadet commandant. He was medically retired in 2015 due to combat-related injuries, including severe brain trauma and back injuries that resulted in 5 surgeries. Through it all, his will to succeed remained undiminished. Once he returned home to Michigan, Chad earned a bachelor's degree in business/finance and launched his first company, all while raising his newborn baby.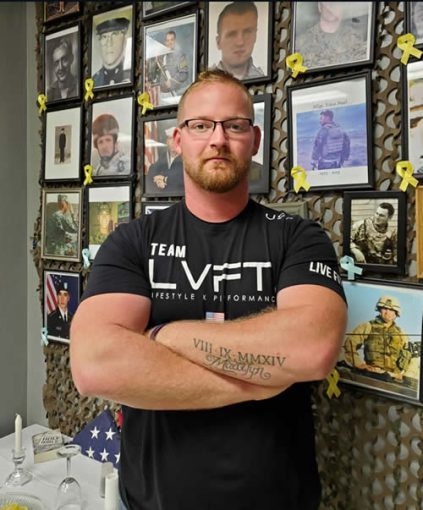 Fast forward a mere 4 years after separating from his beloved Corps. At the age of 27, Chad is now the President of Victory Gym and Veterans Health Club, a successful entrepreneur, and still his brothers' keeper. His business, RSM, is a snow management company that takes care of the Woodhaven-Brownstown school district as well as many other large properties. As a Trenton Rotarian, Chad served for 2 years as the Operations Director for the club's signature annual event, Roar On The River. He is also currently pursuing a second degree in criminal justice with the intent to serve as a police officer. His dedication to the Downriver community is evident in all of his activities!
Chad's labor of love, though, is his role as President of Victory Gym and Veterans Health Club. The mission at this 100% volunteer-operated Brownstown charity is simple yet incredibly difficult: Enrich veteran lives and conquer PTSD (post-traumatic stress disorder). Veterans, active military, and first responders all receive free memberships in an effort to utilize physical fitness and camaraderie to achieve a healthy body, mind and spirit. 22 veteran lives are lost per day to suicide, often as a consequence of PTSD. The loss of many of his military brothers and sisters after they returned home from war has strengthened Chad's resolve to do everything in his power to prevent more. His tireless efforts, alongside amazing volunteers and the community, provide a place for veterans to once again feel at home and heal.
Thank you for your continued service, Mr. Rossow!
Please visit www.VictoryGymVHC.org for more information on how to help our nation's heroes!