Trenton Police Officers Save The Day — Twice!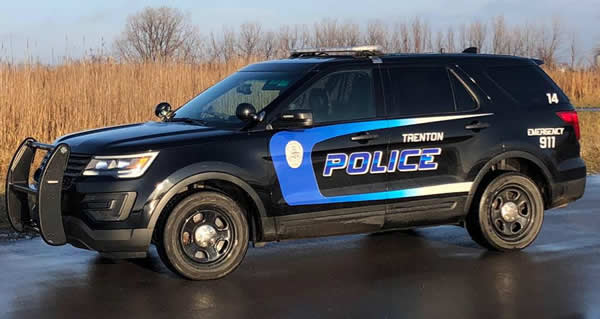 It's easy to take for granted the role of first responders.  How often do we hear sirens and see their flashing lights as they are racing to their destination, adrenaline running, not knowing what situation they will encounter?  Most of the time, we don't give it a second thought and go on with our day, dismissing these occurrences.
Do we really understand the dangers and risks that they take for everyday people like us, people they have never met?  What kind of individual will jump into icy waters or walk into blazing fires to help a total stranger? People who actually CHOOSE to take on those risks, that's who.
Meet our local Hometown Heroes from the Trenton Police Department, Sergeant Steve Lyons and Officer Alex Baum, who have recently made instinctive and instantaneous decisions to make a difference in the lives of two families.  The outcomes of these incidents could have gone very wrong, but that did not happen in either case.
Woman Rescued After Driving Into Frigid Waters
The first incident occurred on Monday, December 17th, 2018, when a woman drove her vehicle into the 38-degree Detroit River just off of West Road in Trenton.
Many Trenton first responders were on the scene, including Lyons and Baum.  Immediately, upon seeing the vehicle that drove into the water, which was a few yards south of where they arrived, they spotted a kayak nearby and sprung into action.  Without hesitation, both officers brought the kayak to the water and Sergeant Lyons jumped in and paddled to the sinking vehicle.
When Lyons arrived at the vehicle, he broke a window and saw that the victim was treading water.  She was able to grab the paddle, and Lyons was able to bring the victim to the shore where EMS was nearby to whisk her away to the hospital where she was treated and released.
After this rescue, the Trenton PD administration made an immediate proactive decision to purchase a number of throw bags, which are life-saving devices used for water rescues.  They are flotation bags that have a rope attached that is thrown to someone in distress, similar to a life ring. Most of the Trenton police vehicles are now equipped with these fairly inexpensive bags that typically range from $13 to $70 on average, although some cost more.
Little did they know that their decision to purchase those throw bags would make such an impact a few weeks later.  
Dog Owner Rescued From Elizabeth Park Canal
On February 5th, 2019, Melvindale resident John Grantham and his German Shepherd, Lobo, were enjoying a stroll through Trenton's Elizabeth Park, which happens to border the Detroit River.  
Lobo, who was leashed, bolted from his owner in pursuit of a goose that was swimming in the canal.  Lobo fell through the ice and Grantham immediately raced to save Lobo. Lobo made his way back to shore but the ice collapsed under Grantham's feet during his rescue attempt.  
While he clung to the ice, the Trenton police came within 90 seconds of a 911 call.  Officer Alex Baum, with a newly-purchased throw bag in hand, threw it to Grantham. He immediately grabbed the device and the officers pulled him to safety, and soon after, he was reunited with Lobo.  Although Grantham's forearms were cut from clutching the ice, he and Lobo are doing fine.
"It was a team effort"
Ironically and surprisingly, on average Trenton typically has only one or two river-related rescue or recovery incidents a year, in spite of Trenton's shoreline and water activities throughout the summer such as boating, kayaking, and fishing.  
"We didn't do this [rescue] by ourselves.  It was a team effort," Sergeant Lyons adamantly emphasizes. Referring to the December incident, he states, "Afterwards, the Fire Department threw a rope and pulled me in, got her to the hospital.  It's all a team effort."
Lyons was clear to state that "Service above self is what we do on a daily basis."  Downriver, especially Trenton, is fortunate to have a team of first responders who shrug off the praise and focus on the people they serve.  Sometimes imperfect situations can end up with perfect results.