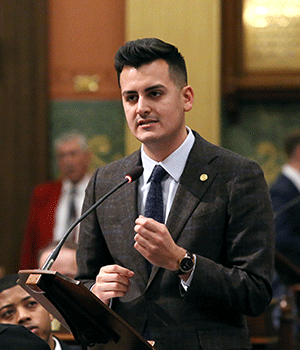 "Dear Neighbor,
After years of hard work and tough negotiations, I'm proud to announce that my colleague Sen. Stephanie Chang and I were able to successfully secure state funding to construct a bridge over one of our most problematic rail crossings in Woodhaven.
I don't have to tell you how much rail crossings have jeopardized the safety of our Downriver community. No one should have to risk missing a doctor's appointment, a court date, or worry about getting to work or school late because a train has blocked the road for hours. Through we still need more funding to finish the job, I'm ready to roll up my sleeves and do whatever I can to get this bridge built.
If you ever have any questions about this project, state legislation, or state government in general, or if there's anything I can do to assist you and your family, please don't hesitate to reach out to my office toll-free by calling (866) 725-2929. I always look forward to hearing from you!"
Sincerely,
State Rep. Darrin Camilleri
23rd House District
To stay up-to-date on my legislation and my work in House committees you can visit my website at RepCamilleri.com or email me at DarrinCamilleri@house.mi.gov.