Full Time
Full Time/Part Time
Part Time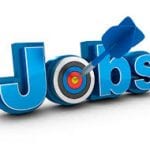 Metro Airport
DGS is hiring at Metro Airport for full time and part time below wing agent positions. Apply online at DALGS.COM job code 01F4J!
Interview sessions will be held Thursday, June 6th at 9a and 1p. The sessions will be held at the Romulus Athletic Center, 35765 Northline Rd, Romulus, MI 48174. Applicants must be on time.
The work involves directing aircraft, and loading and unloading luggage. We are looking for candidates with a personal commitment to working safe.
All positions include travel privileges on Delta Air Lines. The positions start at $12/hr with opportunities for advancement.
DGS offers weekly pay, 401k, and other discounts. Full time positions are eligible for health, dental, and disability insurance.
Applicants must be at least 18 y/o, able to lift/push/pull up to 70 pounds, and able to pass a background check.
To apply for this job please visit DALGS.COM.