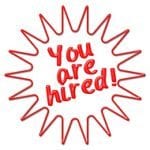 Bread Basket Deli
Join Metro Detroit's BEST Delicatessen family in passionately serving the highest quality deli favorites while enjoying a fast paced, positive work environment.
Are you career minded? Are you a team player and able to step up as a leader? Are you passionate about your work ethic? Do you want a steady, secure paycheck? Paid vacation? Health, dental and vision insurance?
We are currently hiring for IMMEDIATE openings for Short Order Cook.
This position REQUIRES a completely flexible schedule. Mornings, nights and weekends are all mandatory.
Candidates must be reliable, trustworthy, customer service oriented and able to work under a demanding, fast-paced carryout environment.
In addition, candidates must be able to memorize menu items quickly and be able to work in a tried and true method of operation.
We offer competitive wages, benefits and paid vacation for salaried full-time employees who have established themselves as good standing employees.
ALL INTERESTED APPLICANTS MUST FILL OUT AN APPLICATION IN PERSON TO BE CONSIDERED!!
Job Types: Full-time
Salary: Starting at $11 up to ? /hour based on experience After training.
Please apply in person to:
Bread Basket Deli
2011 Southfield Rd
Lincoln Park, MI 48146
ALL INTERESTED APPLICANTS MUST FILL OUT AN APPLICATION IN PERSON IN ORDER TO BE CONSIDERED