Discover Downriver Hero: Kristina Millman-Rinaldi
Executive Director of the Detroit Dog Rescue (DDR)
By Linda Francetich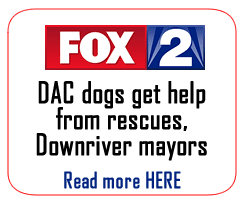 This month's Discover Downriver Hero is hero to the entire Metro Detroit area.  Her heroism reaches out to our four-legged friends which begins in the city of Detroit and extends well beyond the city limits.
Kristina Millman-Rinaldi is the executive director of the Detroit Dog Rescue (DDR), Detroit's first and only no-kill shelter.  Their mission is not only to save these animals from euthanasia, but to reduce the stray dogs running loose on the streets by providing a safe place to nurse back to health and eventually become adopted.  It's an exhaustive effort, but Kristina and her team have gotten the attention of Mike Duggin and all of the local news agencies to help bring such an important cause to the forefront.
Dubbed the "Dog Queen of Detroit" by Fox 2's Charlie Langton, Kristina is quite the underdog herself.  Kristina spent a good portion of her childhood in an abusive home until she was taken in by her stepmother's family. "I think that's why I have an amazing connection with some of the most abused dogs that Detroit Dog Rescue cares for.  It's because I understand them, like not many people can, and I advocate for them because they don't have a voice," said Kristina. "I know what it's like to not know where you're going to sleep or where you're going to get your next meal, and that's what really prompted my interest in dog rescue. I think the bond between dogs and humans is incredibly special, and I believe that some of the most abused dogs we see can really be turned around.  After all, I was," Kristina added.
It's evident that Kristina's childhood and difficult circumstances have not defined the adulthood trajectory of this successful woman.  In fact, like many others growing up in difficult environments, her experiences have taught her extraordinary compassion skills towards those in need.  In this case, the beneficiaries of her boundless empathy happen to be the lucky dogs of the DDR.
She has been with Detroit Dog Rescue since its inception in 2011, after working with Detroit rapper and Detroit Dog Rescue Co-Founder, Dan "Hush" Carlisle, who was prominent in the Detroit music scene. Her savvy marketing and promotional skills helped the careers of several rappers in Detroit, many who have signed major record deals.
She takes those same promotional skills and applies them to Detroit Dog Rescue in all aspects. Kristina has been essential in forming partnerships between Detroit Dog Rescue and major brands such as PetSmart Charities, Pet Supplies Plus, and several Michigan-based automotive companies.  In 2014, with the help of Pet Supplies Plus and Natura, Kristina supplied not only Detroit Dog Rescue, but several Michigan-based rescues with 600,000 pounds of food for homeless pets.
In 2015 Kristina sat down with Detroit Mayor Mike Duggan to discuss ways to improve the animal welfare in Detroit.  Those changes are bringing rescue groups closer to opening the doors for more humane Detroit animal services.
Kristina was recently awarded Beaumont Hospital's President's Award for Community Givings; Mackinac Island's Humanitarian Award; was chosen by Philanthropist Manoj Bhargava, Founder of Living Essentials; and Five Hour Energy as the "The Person Doing the Most Good"; and, most recently, was highlighted in Dogster Magazine (formerly Dog Fancy) for their Hero Issue.
Kristina also gives her time to "The Gathering Place," a non-profit for the mentally ill and "Crescendo Detroit," a music-based after-school program for Detroit youth.  In her spare time Kristina enjoys spending time with her husband, young daughter, and their three senior rescue dogs.
Please visit the Detroit Dog Rescue (DDR) and consider adopting a DDR shelter dog.  If you want to more information on how to help the cause, you can contact Kristina at kristinaddr@gmail.com.  Visit DDR on Facebook and Twitter too.