When:
2019-05-16T00:00:00-04:00
2019-05-26T00:00:00-04:00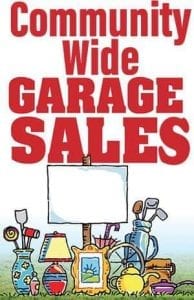 Event Date:
May 16-25, 2019
The 2019 Taylor Citywide Rummage Sale is scheduled for May 16-25.
No permit is required to hold your sale on this week only.
Leftover Items
Any unwanted items after the rummage sale can be disposed of at the Taylor Hills Transfer Station and Compost Site at 16300 Racho Road from 8 a.m. to 2:45 p.m. Residents will be required to use any available free dump privileges or pay the cost to dispose of any unwanted items.
No commercial dumping is permitted. No explosives, autos and auto parts, boats, concrete, hazardous waste, compost materials, tree branches, or tires will be accepted.